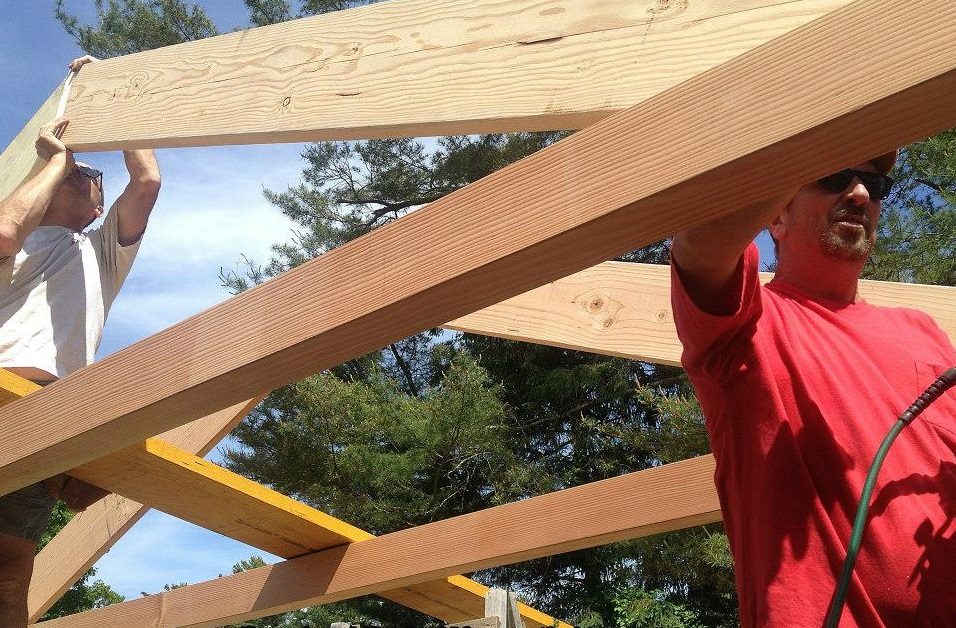 Darryl and Paul Gauvin working on a vaulted sunroom
It all began in 8th grade, when Darryl Gauvin decided that he wanted to be a carpenter when he grew up. He attended Upper Cape Voke in Bourne, Massachusetts, and graduated #1 in his carpentry class. While in school, he began working for Albert "Buck" Pye in Buzzards Bay. Darryl continued working for Buck for over 14 years until Buck retired.

The company began in September of 1997, and six months later, they hired Darryl's brother Paul, also from Wareham. Paul's been working in the carpentry field for 26 years.

In October of 1999, Darryl's wife Dawna left her "other" full-time job to run Gauvin Building & Contracting on a full time basis, while raising the family. Dawna re-joined the outside work-force in November of 2011, but continues to work in the office when not volunteering for PTO, Girl Scouts, or other community activities.

With Dawna as the "brains" and Darryl as the "brawn", this husband and wife team offer a unique approach. Dawna often acts as a "translator" between the carpentry terms and the everyday terms. Offering a team approach, they both look at the project and they both work on the estimate, so they are both together with you every step of the way.

Home improvement is not always easy, especially on the clients/families. They understand that, and they make it easy. One look at their work, and you'll see how meticulous they are. They have been known to even take their shoes off! Jobsites are always left clean at the end of each day. They are always prompt, and maintain communication with their clients every step of the way. They treat customers the way that they would expect to be treated.

Both Darryl and Dawna, as well as their parents and grandparents, grew up in Wareham. They were taught that a name and a reputation mean something, and they work hard to maintain both.